"Hola!" to Olives from Spain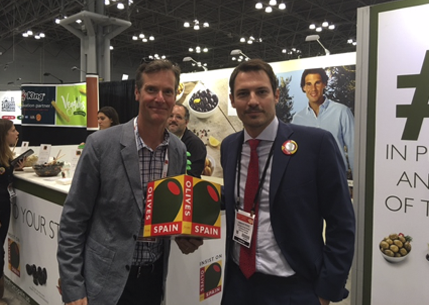 NYC [May 31st, 2016] – Extending its roster of international clients, Fifteen Degrees, was selected by the Olives of Spain to increase awareness and consumption of Spanish Olives in the US. The campaign is spearheaded by The Spanish Institute for Foreign Trade (ICEX) and Interaceituna, the Inter-professional Association for Olives from Spain, which represents a spectrum of growers, producers, packers and importers.
While the campaign commences in August, the First order of the day was attending the Fancy Food Show, on June 27th, in New York.
"We met with some of the team back in February, touring the beautiful city of Seville and visiting with olive growers." said Mac McLaurin, co-owner and chief creative officer of Fifteen Degrees. "They are a passionate group, very proud of their country and its olive growing tradition. We're very happy to be working with them."
The campaign includes magazine ads, trade show appearances, and an extensive online effort complete with music-driven, 30-sec social media-friendly cooking videos.