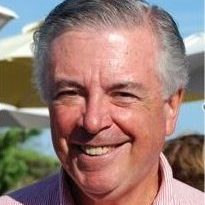 Jim Rowbotham
Business Development & Marketing Research Consultant*
How do you create lift at Fifteen Degrees?
I discover new business opportunities. Offsite workspaces, watering holes, college alumni events, marketing seminars… these are my playground and office. My daily challenge is to get Fifteen Degrees in front of prospective clients and then to assist in strategy and research.
How do you create lift outside of Fifteen Degrees?
Besides enjoying the company of my wife Cindy, and of our 13-year old Scottie Mr. Ruggles, it's fun to travel 75 miles on weekends to our smart-sized house in "Nearhampton," (Westhampton Beach). I also volunteer at the New York Athletic Club, where I organize non-fiction book author events and serve on the gym committee.
What brands have you created lift for?
Ralston Purina, Bic Pen Co, Diaper Buds, Icelandic Glacial, AroundACity, Insurent, Securities Industry News, Off-Track Betting, Needham & Co., Binney & Smith, Italian Trade Commission, The National, New York Roadrunners Club, The Entertainment Channel, Burry Cookies & Crackers, Seagram Distillers, Colgate-Palmolive, Anderson-Clayton Foods, American Home Products.
*Jim is a consultant and regularly serves as a member of the Fifteen Degrees team.