Considering Manhattan for heart surgery? Not so fast, says new campaign from The Heart Institute.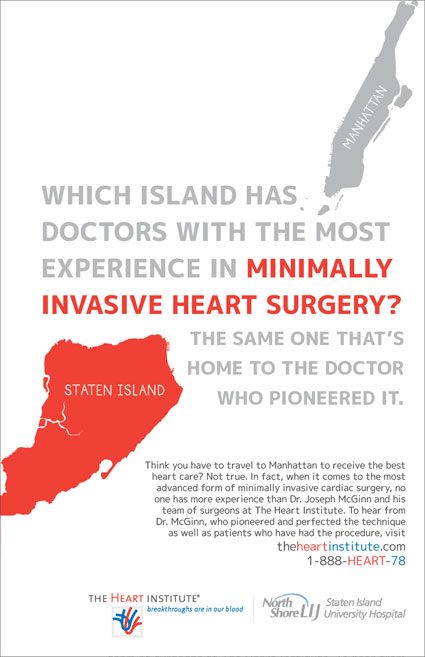 STATEN ISLAND, NY – September 6, 2012 — Set to launch September 10th, The Heart Institute at Staten Island University Hospital will be unveiling a new branding campaign aimed at positioning them at the forefront of New York's heart surgery elite. The new ad campaign, propelled by a theme of 'obsession' and a tagline of "breakthroughs are in our blood" includes television commercials (to air on the FIOS and Time Warner networks), newspapers, magazines, and online. Each element of the campaign invites viewers to "see more" on The Heart Institute's revamped website (also launching on September 10th). There, users are treated to a rich environment of informative doctor interviews and emotional, off-the-cuff patient testimonials illustrating the incredible benefits of minimally invasive cardiac procedures.
The genesis of campaign can be found in just a few minutes of talking with The Heart Institute's medical director, Dr. Joseph T. McGinn. "Currently, our surgeons are performing procedures and pioneering research that is changing the way all heart surgery is performed all over the world," said Dr. McGinn, who is also the pioneer of MICS CABG (minimally invasive cardiac bypass surgery).
Manhattan-based branding and digital agency, Fifteen Degrees, was tasked with crafting and communicating THI's new branding strategy. "For the past three years we've differentiated THI through campaigns like "Bypass the Ordinary," which focused specifically on their unique form of bypass surgery. Today we're excited to not only help them communicate a broader array of services and experience, but to focus on the one thing that truly sets THI apart from other heart hospitals: doctors who are obsessed with finding new, better and safer ways to do things," said Mac McLaurin, Chief Creative Officer/Co-founder, Fifteen Degrees.
The website and videos can be seen at theheartinstitute.com. The site's easy-to-use interactive design and content was carefully developed to inform potential patients, loved ones, caregivers and doctors about minimally invasive heart surgery in a quick, illustrative and un-biased manner.
"It's like a crash course in minimally invasive heart surgery," said Richard Clarke, Director of Account Services/Co-founder, Fifteen Degrees. "And in so doing, we're dispelling the myth that doctors experienced in the most advanced forms of cardiac surgery are all in Manhattan. It's a win-win."
The Heart Institute opened in 2001 and is operated at the North Campus of Staten Island University Hospital at 475 Seaview Avenue. It is one of the nation's leading heart hospitals, known for its pioneering techniques in heart surgery (MICS), angioplasties and electrophysiology (Afib), for its most advanced diagnostic technologies, post-surgical outpatient care, and cardiac prevention programs. Procedures include coronary bypass operations, heart valve repair/replacements, angioplasties, cardiac ablations and cardiac catheterizations.